Experienced Cypress Swimming Pool Builders
We are here to help you with every aspect of pool ownership. From initial designs to completed pools, we are the smart swimming pool builder choice.
Cypress Swimming Pool Builders is a hands-on company, where our goal is helping you to realize a resort vacation in your own backyard. We are swimming pool contractor professionals, and take pride in our industry. We keep up with all the innovative standards to ensure that we are in the lead with the newest experience in computerization, automation, materials and design.
Whether you have a new pool or whether it's time for Cypress pool equipment replacement, you will get the most passionate and professional workmanship and quality from our firm. We design quality pools with efficient systems. We have creative designs with exciting, unique features that make your pool more enjoyable.
Whether you would like seats, caves, slides, lights, fountains, waterfalls or infinity edges, we can supply all of your pool needs. We use materials including brick, tile and stone to create natural settings that enhance your home's beauty.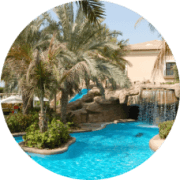 If you're thinking about having a swimming pool built, you need to know the best ways to find the contractor that's right for the job.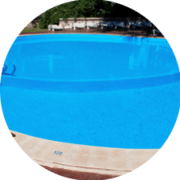 You have probably heard of having a house remodeled, but what about a pool? Remodeling has moved beyond houses.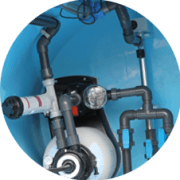 You can maximize the enjoyment of your pool and save on energy costs if you consider replacing your pool equipment when it no longer operates efficiently.
Energy Efficient Swimming Pool Equipment
We don't overlook the parts you can't see, either. Our engineering department has expertise in structural design and swimming pool remodeling. Whether your pool is new or a remodeling project, we can create whatever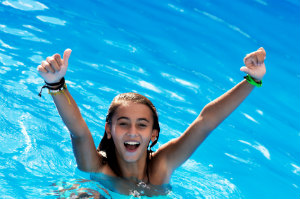 you can conceive. Your pool will be beautiful, and built with quality materials and workmanship.
We use only the best in energy-efficient and quality engineered pool and hot tub equipment. The products we recommend will save you water, energy and money. The equipment we install runs more quietly, with reduced operation costs.
Would you rather spend time swimming than checking your pH levels? We offer Cypress swimming pool maintenance plans that will allow you to relax and let us handle the maintenance and operation of your pool. This will enhance your experience as a pool owner.
Energy efficiency is as important for the environment as it is for your wallet. We have a sterling reputation, backed by customer service, business ethics and integrity. From the beginning to the end of your pool building process, we will be there whenever you need us. Call anytime for assistance or information. We will make your pool ownership worry-free.