Pool Equipment Replacement Cypress
You can maximize the enjoyment of your pool and save on energy costs if you consider pool equipment replacement Cypress at the right time. The right time is when it no longer operates efficiently. This will allow you to spend less time maintaining your pool, as well. The most modern equipment offers you the best performance, with lower levels of maintenance required for long life and optimum pool performance.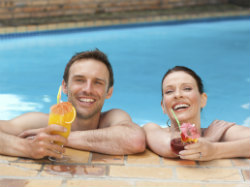 New pool pumps can cut your energy use by at least 30%, and often more. Today's pumps are much more economical to run. They offer variable speeds for maximum efficiency. When it's time for Cypress pool equipment replacement, you'll find that new pool pump technology has increased dramatically, compared to older models.
Modern pool pumps run more quietly than their predecessors and offer you a longer service life. Critical parts are designed for extended years of use. Digital displays inform you of current status, mode and run time. Push button models offer the best in simple operation.